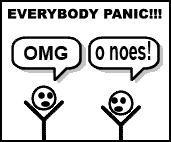 I've been having these beyond vivid and extremely bizarre dreams about Jeff. Most of you remember him. You know - hole in the roof, Mr. Badass Marine, full of rage combined with a heaping dose of jealousy.
There is no logical explanation as to why I continue to have these dreams about him. They started when I got pregnant. I don't think about him as I drift off to sleep. And besides the occassional sighting, we haven't talked since it all ended almost 5 years ago.
Last night's dream was by far the wierdest. Erik sold the house we live in now to move to dumpsville USA - Rockdale. Go figure, the neighbor directly behind us was Jeff. The day we moved in they were having this huge going away party for him - he re-enlisted like an idiot.
Long dream short - I was later arguing with Erik on the steps of our new, dumpy home about why he dragged me out here, etc - when I screamed at Erik to "leave me the f*** alone." In comes Jeffarius to the rescue. "Are you okay Michelle?" "Did he hurt you?"
"I'm fine," I mutter and then Jeff comments on the baby I'm holding - saying that she looks just like me. That was about the only good part of the dream. Then Jeff kinda gives Erik this manly "you snagged a good one" hug and said "Watch out, she'll break your heart."
I think at some other point in the dream he came over with pictures of his son but that's a bit cloudy to me.
So as I tell Erik about this bizarre sleep story I can't help but wonder why the hell I give a shit. Like, as I'm telling him about the enlist part, I honestly was thinking "could he be that stupid" then followed by the thought of "why the hell do I care?"
And when I woke up man was my back sore - which got me thinking to my first back surgery and then thinking to Jeff because he was there for that ordeal. Which is maybe why I had the dream?
Any dream interpretation would be greatly appreciated!